Events
7th July from 10:30 to 12:00
27th July from 20:00 to 21:30
Touring Production - "Showmanship" a one-woman show by Lucy Roslyn
28th July from 20:00 to 21:30
4th August from 10:30 to 12:00
News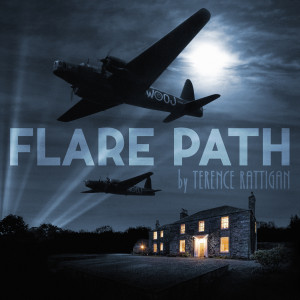 "I was very moved by the play," said Prime Minister Winston Churchill. "It's a masterpiece of understatement.
But we are rather good at that, aren't we?"
Jun 30th to Jul 7th 2018
Lincolnshire, 1941. Home to RAF bomber squadrons, flying high-risk nightly sorties, deep into German territory. At this stage of World War II, the survival rate for bomber crew members was 50%. But what was the toll on the people they left on the ground, night after night: crew mates, wives, lovers, friends? The people who lived under the flight path, counting the crews out into the night sky, and anxiously waiting to count them back in as dawn broke?
This beautifully constructed play draws on Rattigan's own experience as a gunner in the RAF. Set entirely in a country house hotel on the edge of an airfield, eleven meticulously drawn characters experience the horror and heroism of this corner of wartime England, where no one knew when the next bomber would drop out of the sky. All wrapped around a poignant love triangle that pits duty against personal desire.

PRESS COMMENT:

"Given the circumstances, you'd hardly expect a debate about the morality of the air offensive: what the play provides, with Rattigan's characteristic flair for understatement, is a deeply moving portrait of people at war." Michael Billington, Guardian

"a shattering ensemble work...where every seemingly ordinary second of life in an existence hemmed in by the ever-present threat of death is charged with a quiet intensity." Sam Marlowe, Arts Desk

"...a three-handkerchief weepie that somehow manages to be both profoundly moving and wonderfully funny." Charles Spencer, Daily Telegraph

One of Britain's greatest 20th century playwrights, Terence Rattigan was a master of moral conflict and restrained emotion under extreme pressure. "Flare Path" is a classic British ensemble drama.
This production marks the centenary of the founding of the Royal Air Force in 1918.

If you would like further information about this production please contact the Artistic Director via the email address artisticdirector@criteriontheatre.co.uk
There will be smoking on stage under The Smoke-free (Exemptions and Vehicles) Regulations 2007.
Coming Soon
Just Finished