Events
Open Reading - a new play 'City Final' by local journalist Barbara Goulden. All welcome. The event is free and will be followed by a discussion with the author.
27th September from 19:30 to 22:30
3rd October from 20:00 to 21:00
Club Night - Friday Night Social - Acoustic Music Night
5th October from 20:00 to 23:00
6th October from 10:30 to 12:00
9th October from 19:30 to 22:00
3rd November from 10:30 to 12:00
21st November from 20:00 to 21:00
Talk by Chris Arnot about his latest book 'Larkin About in Coventry' which details the local associations of the poet Philip Larkin.
25th October from 19:30 to 22:30
News
Links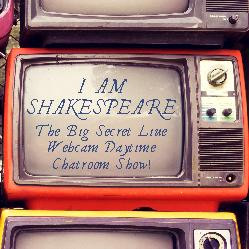 'The Big Secret Live - I Am Shakespeare - Webcam Daytime Chatroom Show!'
Oct 13th to 20th 2018
'I am Shakespeare' is the first play written by acclaimed actor and director Sir Mark Rylance. It's an exuberant and comic exploration of the Shakespeare authorship debate. The action takes place on one night in the garage of geeky teacher Frank Charlton, from where he runs an internet chat-room show called 'Who's There?'. On the night in question he asks his international audience "Who really wrote the plays of William Shakespeare?". By the power of stormy weather and the internet, various individuals who claim authorship turn up from the past, with hilarious consequences.
Press Comment
"Witty, gloriously funny and wonderfully well-written . . . .the best thing I have seen in years" The Stage
Coming Soon
Just Finished