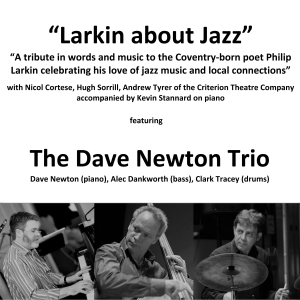 SOLD OUT
A tribute in words and music and music to Coventry born poet and jazz critic Philip Larkin (1922-1985). Outlining his early associations with the city, it will also celebrate his lifelong passion for jazz music which began when he was a pupil at King Henry VIII School. From 1961 - 1971 Larkin wrote a monthly jazz review for the Daily Telegraph. A collection of these reviews was published in 'All What Jazz: A Record Diary'.
We are delighted to present this concert as a collaboration with Jazz Coventry.
The evening will feature a performance of jazz classics by The Dave Newton Trio.
Dave Newton was voted best Jazz Pianist in the British Jazz awards for the 13th time in 2014 and was made a fellow of Leeds College of Music in 2003 where he now teaches jazz piano.
For this special concert at the Criterion he will be joined by Alec Dankworth (bass) and Clark Tracey (drums).
Criterion actors Hugh Sorrill, Andrew Tyrer and Nicol Cortese will bring to life some of Larkin's poems and his reflections on the importance of jazz music to his life. Nicol will also be singing some of the songs so loved by Larkin, accompanied by local musician Kevin Stannard.
This is a full length version of the brief entertainment that was offered as part of the Earlsdon Festival in May celebrating Larkin's local connections as well as his love of music.
Tickets £12 ; Students £6
Advance booking is advised as it is anticipated this will be a popular event. Tickets can be purchased from this website or in person from our box office during normal opening hours, or leave a message on 02476 675175.