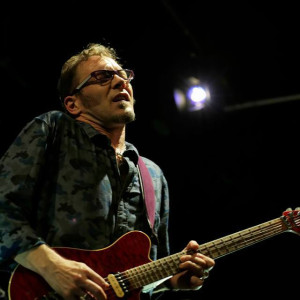 Will Johns is returning to the Criterion for one night on Saturday 1st April 2017.
Featuring a mixture of original material from his three acclaimed albums together with covers of Blues classics, Will and his band will, this time, be supported by Jasmine Rodgers.
Since last appearing at the Criterion in 2015, Will has released his third album "Something Old, Something New."
Tracks from the Album have been featured by Paul Jones on Radio2.
Will Johns is recognised as one of the most distinctive and exciting performers on the British Blues scene today. His guitar playing is both modern and cutting edge but also steeped in the blues history passed from generation to generation. Hardly surprising as Will has direct heritage to a golden age of music. As well as being a spellbinding live act, Will is a hugely respected songwriter, having three times been nominated for 'Best Original Blues Song' by the British Blues Awards in 3 consecutive years.
From the age of 15 Will taught himself guitar but received huge encouragement from his world renowned uncle, Eric Clapton.
Having been writing and performing for over 15 years across the globe Will has picked up many accolades along the journey, not least his BBA nominations for 'On My Back' from his debut solo album Count On Me in 2012, and for 'KissingYou' from the superb Hooks & Lines album in 2013. A big favourite among festival goers, Will has appeared across the U.K. at such prestigious events as Blues On The Farm, Birmingham Jazz and Blues and Cambridge Rock Festival.