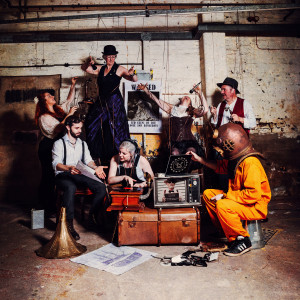 A new sound from old favourites Steamchicken, returning to the theatre for the first time since their sold out 'Jazz Roots' show in 2013.
And it was at that show that singer and actress Amy Kakoura, returning to her local theatre after four years at Guildford School of Acting, first saw the band. She went on to form a creative partnership with founder Andrew Sharpe, the pair spending two years writing and performing the 'Musical Songs for a ledge', before joining the band. Their new show is based around the new album 'Look Both Ways', the first featuring her vocals. It combines folk with jazz, reggae, blues and she brings the storytelling traditions musical theatre to the mix.
For over 20 years, Steamchicken have been delighting audiences with their own brand of fun. In Ceilidhs, concerts, bar sets and workshops, the 8 talented and versatile musicians bring musical genres together in a way that shouldn't work but does. Piano, melodeon, harmonica, vocals and percussion combine with a tightly knit horn section (including Mandy Sutton -normally found building sets) to provide entertainment that goes way beyond a dance or a song. This band don't take themselves too seriously - just don't let Andrew tell the sausage joke!
Always one of the best live bands on the circuit the new album, largely written by the band, steps up a gear and has been surprising many by its energy and freshness, they're poised to write their name large in 2017.
"...swinging vibes for today's sonic ecstasy." Turn Up the Volume
"a mulch of jazz, folk and American hoedown - hilarious" - The Times (Hot Tickets)
"Good Noisy Fun" - fRoots
"Just have to be seen live" - Living Tradition
The seating will be arranged cabaret style - you can book your tickets online but there will be no reserved seating. Get there early! Pick a good table, get a drink, sit back and enjoy.